Brian Gialketsis SERQueer Scholarship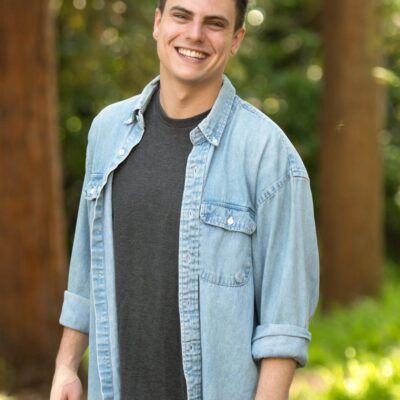 About the Scholarship
In April 2020, the TGIF Committee unanimously voted to establish a $5,000 recurring scholarship for the next three years in honor of Brian and his many contributions to environmental sustainability on the UC Berkeley campus: The Brian Gialketsis SERQueer Scholarship. The name SERQueer comes from the group that Brian and other SERC alumni created in 2018, a group they described as "a community space for queer students working on environmental sustainability & justice".
$1,000 scholarships will be rewarded to five students selected by the SERQueer Scholarship Review Committee.
Scholarship Goals
Honor the life of Brian Gialketsis and his commitment to building radically inclusive social and environmental justice spaces on campus
Financially support queer-identifying students working in and passionate about the environmental field at UC Berkeley
Re-envision what a community scholarship can look like by eliminating barriers to entry and focusing on healing, joy, and growth rather than traumas
Past Brian Gialketsis SERQueer Scholarships: Year in Review
Applying to the Scholarship
Our Fall 2022 SERQueer scholarship will be one round this year.
One Google Form Application due November 11th, 2022  at 11:59pm. You can view the essay prompts below. Applications will open on November 2, 2022 at 9:00am.
The Review Committee will then review these google form submissions will notify recipients by RRR Week.
Eligibility
Registered UC Berkeley student (both undergraduate and graduate)
Queer Identifying
Passionate about Environmentalism (this does not have to be your field of study)
Any student who meets these criteria is welcome to apply.  This includes undocumented, formerly incarcerated, and reentry students, among others.
Prompts
Please keep your responses to under 2,500 characters (~500 words).
Question 1
Brian loved music, and shared his love of music through playlists sent to friends and family. What does your favorite song you listen to say about who you are?
Question 2
What would a queer and/or environmentally just world look like for you? How does that vision feel?
Question 3
How would this scholarship allow you to prioritize joy, rest, or other wellness goals?
Frequently Asked Questions
Q: Can we use old pieces of work to answer prompts, such as an essay I wrote for another scholarship or class?
A: Yes! Previous work used for other scholarships, other classes, or anywhere else will be accepted.
Q: Can I still apply if I am not majoring in an environmental field?
A: Yes! We encourage anyone who is passionate about environmentalism to apply. We recommend checking out SERC if you're interested in the eco-community at UC Berkeley 😉
Q: If I do not feel comfortable sharing about my identity, can I still apply?
A: Yes! These questions are not meant to make you feel uncomfortable; we do not want you to share anything you do not want to share. You are not required or expected to lay out traumas, unless you feel it is important and you want to share those experiences. Please answer the questions in a way that makes you most comfortable and happiest. We want you to have fun with this! The questions are meant to be broad so applicants can have the freedom to interpret and answer as they choose.
Q: Who sits on the Scholarship Review Committee? 
A: The Scholarship Review Committee is comprised of friends, family and colleagues of Brian, and other representatives who are queer identifying and/or familiar with environmental issues and initiatives.
Q: How will the scholarship be administered?
A: The TGIF Team will be working with the Financial Aid and Scholarships Office to award the scholarship. The scholarship will be awarded in conjunction with your financial aid package. Please contact us if you have any questions!
Q: Are you offering other scholarships at this time?
A: For Fall 2022, SERC and TGIF will be offering two sister scholarships: (1) the Brian Gialketsis SERQueer Scholarship, and (2) the Environmentalists of Color Scholarship. You can apply to both, as well as re-use language across submissions.
Q: Who can I contact if I have any questions? 
A: You can either email tgif_grants@berkeley.edu or Carli Baker, carli.baker@berkeley.edu with any and all questions.